Não perca! Numa sala perto de si!
A Saga Twilight: Amanhecer - Parte 2
(
The Twilight Saga: Breaking Dawn - Part 2)
M12
112m -
Aventura | Fantasia
- 15 Novembro 2012

(EUA)
Protagonistas:
Kristen Stewart, Robert Pattinson, Nikki Reed, Dakota Fanning, Maggie Grace, Taylor Lautner
Sinopse:
Depois do nascimento de Renesmee, os Cullen unem-se a outros clãs de vampiros para protegerem a criança dos Volturi.
À Lei da Bala
(
The Big Bang)
M12
101m -
Thriller
- 15 Novembro 2012

(EUA)
Protagonistas:
Antonio Banderas, Thomas Kretschmann, William Fichtner, Sienna Guillory, Delroy Lindo, Robert Ernie Lee
Sinopse:
No final de uma noite, Ned Cruz (Antonio Banderas), um investigador privado de Los Angeles, recebe a visita de um boxer russo, recentemente colocado em liberdade condicional, que lhe apresenta uma intrigante oferta de emprego: encontrar Lexie, a sua namorada desaparecida e os 30 milhões de dólares em diamantes que ela esconde. Assim que o detetive Cruz inicia a sua busca para encontrar Lexie, as pistas enviam-no aos becos mais recônditos da cidade e a duvidosos indivíduos, desde um ator de Hollywood com um pequeno segredo sujo (James Van Der Beek), até um produtor da indústria pornográfica com um particular interesse no seu próprio trabalho (Snoop Dogg), e uma empregada de mesa (Autumn Reeser) com um estranho fetiche pelas teorias da Física de Partículas. Lexie revela ser tão misteriosa quanto bonita e Cruz torna-se obcecado por encontrá-la. Com o tempo a esgotar-se, Cruz descobre que as pistas apontam para um bilionário solitário (Sam Elliott), e para o seu colega (Jimmi Simpson), que planeiam recriar a explosão conhecida por Big Bang, por baixo do deserto do Novo México. Perseguido por um trio de polícias igualmente interessados em encontrar os diamantes perdidos, e com o número de corpos a aumentar, Cruz compreende que o simples caso de uma pessoa desaparecida é tudo menos isso, e possivelmente pode trazer o fim do mundo como nós o conhecemos.
Está no Ar
(
Parlez-moi de vous)
M12
89m -
Drama
- 15 Novembro 2012

(França)
Protagonistas:
Catherine Hosmalin, Jean-Noël Brouté, Karin Viard, Nadia Barentin, Nicolas Duvauchelle, Patrick Fierry
Realização:
Pierre Pinaud
Sinopse:
Enquanto animadora de um programa de rádio de grande sucesso, Mélina é uma das vozes mais conhecidas de França. No seu fórum nocturno, Mélina ajuda com bom humor e impertinência a resolver os problemas afectivos e sexuais dos seus ouvintes mas na vida real mantém o anonimato e a sua vida é muito mais solitária do que se poderia pensar. Até que aos 40 anos resolve, subtilmente, ir à procura da mãe que nunca conheceu.
O Substituto
(
Detachment)
M12
97m -
Drama
- 15 Novembro 2012

(EUA)
Protagonistas:
Adrien Brody, Bryan Cranston, Christina Hendricks, Lucy Liu, Marcia Gay Harden, Tim Blake Nelson
Sinopse:
Henry Barthes é um educador com grande talento para estabelecer ligação com os seus alunos. No entanto, Henry optou por enterrar o seu dom. Passando os dias como professor substituto, evita convenientemente quaisquer ligações emocionais ao não ficar tempo suficiente em lado nenhum para se apegar quer a alunos, quer a colegas. Quando é colocado numa escola pública, onde uma direcção frustrada e esgotada criou um corpo estudantil apático, Henry torna-se rapidamente num exemplo para os jovens desafeiçoados. Ao descobrir uma ligação emocional improvável com os alunos, os professores e uma adolescente foragida que recolhe das ruas, Henry apercebe-se de que não está sozinho na sua luta de vida e de morte para encontrar beleza num mundo aparentemente cruel e sem amor.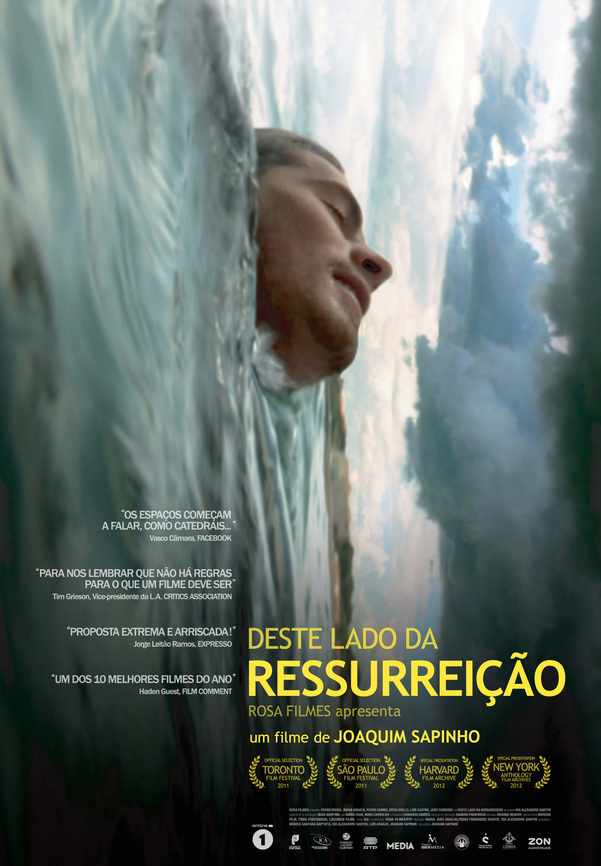 Deste Lado da Ressurreição
M12
116m -
Ação | Aventura
- 15 Novembro 2012

(Portugal)
Protagonistas:
João Cardoso, Luís Castro, Pedro Carmo, Pedro Sousa, Sofia Grillo
Realização:
Joaquim Sapinho
Sinopse:
Desde o divórcio dos pais, a família não voltou a ver Rafael. A irmã, Inês, foge de casa para o procurar quando sabe que ele regressou à praia do Guincho para voltar a surfar.