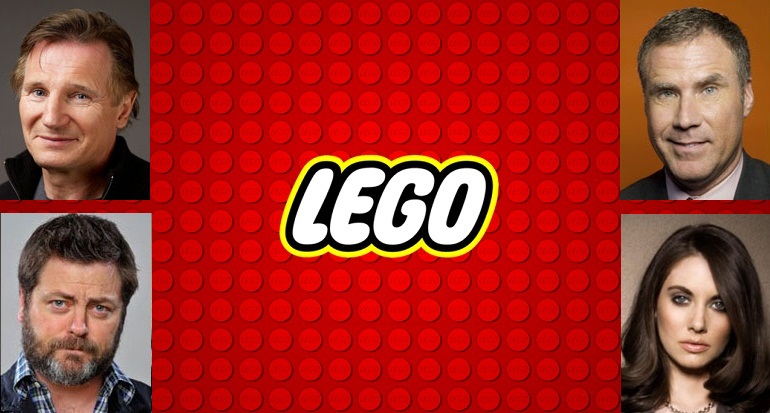 O
Deadline
anunciou que o talentoso conjunto de actores composto por Alison Brie (
Espera Aí... Que Já Casamos
), Will Ferrell (
A Campanha
), Liam Neeson (
Taken - A Vingança
) e Nick Offerman (
Agentes Secundários
) acabaram de se juntar ao elenco vocal de "
Lego: The Piece of Resistance
", um filme desenvolvido pela
Warner Bros.
e pela
Village Roadshaw
inspirado no universo dos populares "brinquedos"
LEGO
.
Brie, Ferrell, Neeson e Offerman juntam-se, assim, a um elenco já de si bastante respeitável, com Will Arnett, Elizabeth Banks, Chris Pratt e Morgan Freeman.
O enredo de "Lego: The Piece of Resistence" centra-se em Emmet (Chris Pratt, "Parks and Recreation"), um boneco Lego comum que é confundido com um MasterBuilder e acaba por entrar num grupo de heróis e figuras notáveis numa jornada para impedir que um tirano cole todas as peças do Universo, um desafio para o qual este não está minimamente preparado. Brie irá dar voz a uma colega viajante de Emmet, Ferrell irá ser um vilão, intitulado President Business, Neeson um inimigo chamado Bad Cop e Offerman um pirata que procura levar a cabo a sua vingança contra o Presidente. Sabe-se ainda que o Super-Homem e o Batman (interpretado por Will Arnett) irão entrar no filme.
O filme vai mesclar animação com actores e cenários reais. "Lego: The Piece of Resistance" será realizado por Chris Miller e Phil Lord (dupla de "Agentes Secundários") e Chris McKay (Robot Chicken). O argumento original foi escrito por Dan e Kevin Hageman.
"Lego: The Piece of Resistance" estreia no dia 28 de Fevereiro de 2014.